Our first sound walk iPhone application, entitled The Empty Air, is now available right here on iTunes. The application is site specific for Rittenhouse Square in Philadelphia, meaning you need to be in the park for it to work. The GPS in your phone is used to control what you hear as you walk around and your location changes within the park. Download the app to your phone to listen to the score The Mural and The Mint has created for this beautiful public space.
The Rittenhouse Square Sound Walk from The Mural and The Mint on Vimeo.
To create the experience, Michael Kiley of TM&TM spent months recording existing sounds found throughout the city's most widely used public space — birds chirping, leaves rustling, children laughing — and extracted a set of tones, textures and frequencies that would become the basis for an original song, "The Empty Air." In partnership with Philadelphia web design firm P'unk Avenue, Kiley developed an iPhone app that presents the song and its myriad elements to listeners as they stroll through the park.
"I had yet to experience smart-phone technology in a way that opened me up to the world around me, instead of drawing me in to the device," says Kiley of his inspiration for creating The Empty Air as an experiential app. "The goal of this project is to create a new way for people to experience their city through music and become more connected and invested in it as a result."
How it works:
Download the app from the iTunes store (99 cents, available now) and head to Rittenhouse Square. To begin your Sound Walk, simply plug in your headphones, open the app and put your phone in your pocket. Traverse the park in whatever order and pace you choose while your GPS location triggers different elements of the composition — from ambient traffic noises and footstep rhythms to melodies inspired by church bells. Then step into the center of the park, and the entirety of "The Empty Air" song will surround you.
Future Goals:
Other Sites:
This project is just the beginning. We hope to develop it into a series including diverse areas around the city. Rittenhouse Square was chosen because it is the most widely used public space in Philadelphia, and we hope by selecting it, that it gains an audience for the greater project. It is our dream to now begin to create sound walks for parts of Philly that could benefit from this sort of project. For example, the city has been working hard to bring people down to the waterfront from Old City via Race St. by renovating the underpass of I95, and the creation of the Race St Pier. Fringe Arts is also opening a venue with a bar and restaurant there. Donate now if you would like to experience a sound walk from 2nd and Race to the end of the Race St. Pier.
Other Platforms:
Right now, The Empty Air is only available via iTunes. This is not by choice, and if we had our druthers, you could get it on your Android, your Nook, what have you. However, we are a small independent entity who had to raise close to $20,000 to create our first walk. Every time we make it available for another platform, we need a big chunk of change to give to our app developer. Did we mention you can donate?
Why isn't this project FREE (it's $.99):
We have been releasing all of our music for free since the beginning of the project. And we still are. The main song from the app will be available on this website for free download starting Tuesday, April 2nd. The app however, is $.99, which we needed to do in order to help us achieve the other goals of the project. We think it is the same as paying a cover charge to see us perform in a venue. Only this time the venue is outside, and we come to you over headphones. We hope the 99 cent charge will not deter people from trying it out, and also generate enough revenue for us to continue to make work.
Helping YOU make soundwalks:
Another goal for this project is to eventually develop this technology into a user friendly interface. Nothing would please us more than to have there be hundreds of soundwalks for Rittenhouse Square. This would be possible is we raise enough money to create a program that anyone could download. Then, all you would have to do is pick your mapping points, assign audio to them, and decide how you want them to function. Then you could add some art work and bundle it up for an upload to an app store. This will obviously take a large amount of fundraising, but it is a major goal for us as artists to help create opportunities for other artists. Again, you can donate if you want to help see this happen.
Thank you for your support so far:
Thank you to all of our KickStarter Backers: Tamara Manik-Perlman, David Disbrow, Vincent Fumo, Inger Hatlen Daniels,  Meg Fry, Amy Morrissey, Dotty Kuhn, Dustin Hurt,  Joe Canuso, Kristen Buck, Johnny Showcase (David Sweeny), Joo Won Park, Makoto Hirano, James Michael, Paulette Canuso, Emmanuelle Delpech, Mauri Walton, Jess Conda, Ashley Witt-Farris, Sarah Gladwin Camp, Daniel Perelstein, Pop Pop Kiley, Justin, Trish Kelley, Lars America Jan, Geoff DiMassi, Justin Rising, Heather Murphy Monteith, Tom Weaver, Dee Nicholas, Noah Waibsnaider, David Stradley, Rick Kiley, Kim Gutjahr, Anna Drozdowski, jaques Jean-Tiziou, Neal Mates, and Rucyl Mills.
This project is supported [in part] through a grant from the Philadelphia Chapter of the American Composers Forum.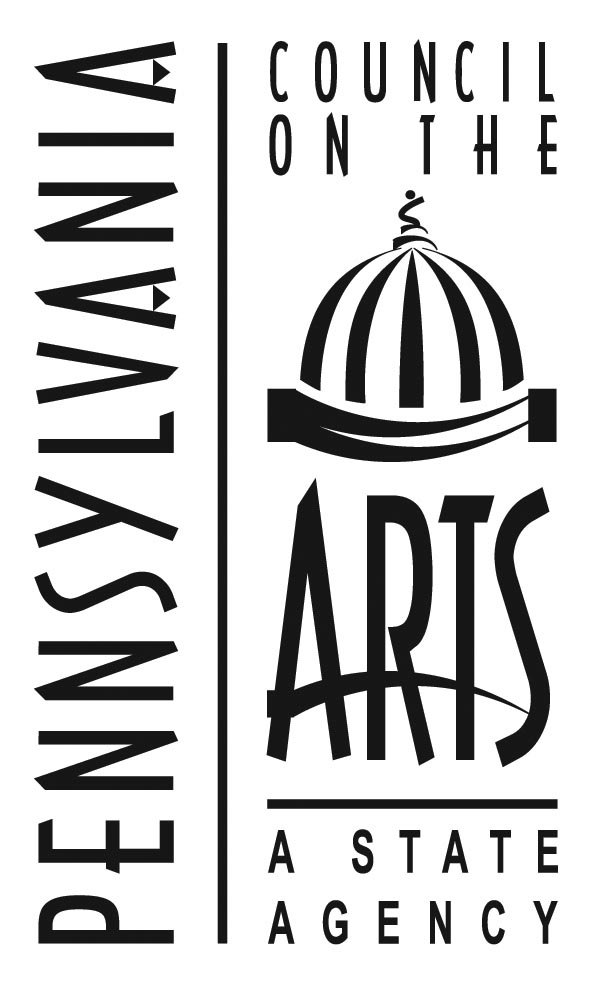 This project was supported by the Pennsylvania Council on the Arts, a state agency, through its regional arts funding partnership, Pennsylvania Partners in the Arts (PPA). State government funding for the arts depends upon an annual appropriation by the Commonwealth of Pennsylvania and support from the National Endowment for the Arts, a federal agency. PPA is administered in this region by the Greater Philadelphia Cultural Alliance.
Additional support of the Pennsylvania Partners in the Arts (PPA) Partnership in Southeastern Pennsylvania is provided by PECO.


This project was also generously support by The Independence Foundation Fellowship in the Arts.