PRESS FOR PRIVATE POCKETS:
The Mural & The Mint
Michael Kiley's band wrestles with art and commerce.
by Doug Wallen
The Mural & the Mint
The idea of art competing with commerce is so much on Michael Kiley's mind these days that he imbedded it in the name of his current band—the Mural & the Mint—and gives out the songs for free, or at least for online donations. It makes sense; Kiley is a husband and father, and his longtime band Cordalene fizzled out a while back, all of which surely puts renewed focus on the economic realities of making, performing, and distributing music in these increasingly lean times.
Set to tape in just over a week at Brian McTear and Amy Morrissey's reliable Miner Street Studios, the Mural & the Mint's eight-song Private Pockets reminds us that Kiley shares the band with two other talented musicians: Jack McBrearty, leader of the late and underrated Falkonr, and Elisa Jones of the baroque-folk ensemble Buried Beds. As a trio they assemble slow-burning, piano-rooted pop that's often spare but always blessed with bright features, from glam-tinged guitar licks to Kiley's high, theatrical singing.
As in Cordalene, Kiley has no problem making his vulnerability public. "And it hurts me so," he repeats on the opening "Sorry My Dear," and the closing "Burn Like I Burn" is just as delicate, if pitched more toward a climax musically. The single "Builders" is precisely that—a breezy standout that brings us into the album while making the most of Jones' backing vocals. Like the rest of Private Pockets, it twinkles gently but burns with sincerity, romantic and critical at once.
Befitting the band's boutique M.O., the album's release show will include a performance by Pig Iron Theatre Company and work by Headlong Dance Theatre, Nichole Canuso Dance Company (helmed by Kiley's wife) and others. Unlike the album, though, you'll have to pay to get in. Just think of it as a donation, or better yet, an investment.
Getting Fresh
Michael Kiley goes dark and dramatic with The Mural and the Mint.
by A.D Amorosi
Published Nov. 19, 2008
Rock/Pop
Nichole Canuso
(CLICK IMAGE FOR LARGER VERSION)
The music of The Mural and the Mint has a way of sneaking up on you. Perhaps it's because composer/singer Michael Kiley likes to book shows at places like the warehouse-y The Parlor and the dainty L'Etage. ("I'm more interested in building community than playing the right clubs, getting the right publicist or blog write-up," says Kiley.)
Perhaps it's the way Kiley's sweeping melodies, spider-web arrangements and curvaceous singing style are laced with stark, snide, hard-life lyrics. "I can promise you that there'll be hell to pay/ Just remember that the world needs enemies and that is why you're here/ That is all you are to me/ You are something to fear,"
goes the chorus to "Something To react Against."
Or maybe it's how the whole shebang is dipped in dramatic flourishes, one after another. Kiley's vocals trill thrillingly where they should be soft. The most somber songs on the just-released debut full-length Private Pockets seems to brew steadily, only to boil without warning. It's chamber folk with a kick. It's a big gulp of rich Chardonnay with a nibble of bitter dark chocolate. It's as if some Goliath of art rock like Queen got its ass kicked by Bon Iver.
Blame the theater. Kiley's been making noise on local stages for years: sound collages for David Brick of Headlong Dance Theater, a song on Subcircle's dance film Here, co-composition with James Sugg for Nichole Canuso's roaming performance installation Wandering Alice in the most recent Live Arts Festival.
"I've found that I love writing songs to order through that kind of work," says Kiley.
Add Jack McBrearty — whose guitars sound like violins, birds or whales — Eliza Jones' subtly sinister piano and vocal interplay with Kiley, and The Mural and the Mint is a far cry from the musky rock stuff Kiley did with his old band Cordalene. This music is moody soft-around-the-edges pop with a hard center.
"It's not really something you just put on," says Kiley of Private Pockets. You have to pay attention to it. I like how much space there is in it, which was my intention with not having a drummer. It keeps the noise floor low and allows for melody and harmony to poke through. When I did play with a drummer, I was always trying to get rid of the cymbals for that reason. I don't care if I never hear another cymbal crash as long as I live."
Kiley's been married to Canuso — a doyenne of local modern dance choreography — for five years. She exposed the onetime rawker to music and sound designs that illustrate and illuminate rather than slam and dance.
"Most of my friends are theater artists or dancers, so me making that music grew from wanting to work with people I love and admire."
Kiley also found that a lot of the music used in local dance to be "horrible."
Says Canuso: "When Mike and I met, we were using a lot of pop songs in our work," referring to her late Moxie dance collective. "This was in total contrast to the more traditional modern dance scores he heard elsewhere. He found the music of Moxie exciting."
Moxie inspired Kiley to see the connection between modern dance and pop music, and led him to make work like that. "I guess it's in my nature to try and fix things," says Kiley.
The songs on Private Pockets certainly take their cue from Kiley's theatrical side — emotionally charged, always in the first person. The melodies are lilting yet the subjects are often grave. Why so serious? Kiley has a lovely, talented wife, a son named Simon who turns 4 this month, a great career in the arts …
"It's a big topic around the house," laughs Kiley.
Some of his lyrics are scathing deconstructions of his marriage or about how hard it is to be a father. "The best compliment I've gotten is when people tell me my songs make them cry," says Kiley.
The best answer Kiley can give is that he needs to write about things that bother him. Songs like "I Never Knew" make Kiley feel better and help him learn about those issues.
"I have a wonderful life, and have been lucky, but that doesn't mean I'm happy all the time. … Being married is difficult. So is being a father. I would rather express how I feel about these things than keep them inside. People often write negative songs about relationships after they have deteriorated. I'm more interested in trying to capture the smaller, more intimate moments of a relationship now."
For all the gray skies, Kiley keeps coming back to the image of sunlight shining through the clouds. "There is always a message of hope, of a desire to fix things in all this."
Posted on Wed, Nov. 19, 2008
Free Culture
The Mural and the Mint's Michael Kiley on community and togetherness
8:45 a.m., Monday.
The Mural and Mint's
Michael Kiley strolls into Bella Vista's the
Bean Exchange
looking like a casual rock star: checkered fedora, black leather jacket, black fingerless biker gloves, worn-in hoodie. He parks his baby stroller near the door ("Just got back from dropping my son off at school," he explains), grabs a coffee and takes a seat across from me at a table.
I ask him how his weekend was and he smiles – "Crazy. I went up to New York City with my wife [dancer Nicole Canuso] to see this experimental dance show…it was terrible, but at least it's a good story."
He smiles again and sips his coffee. It's the kind of tale I'd expect from Kiley, South Philly's soft-spoken free-culture advocate and the driving force behind dreamy indie pop trio the Mural and the Mint – tagged on their Myspace as "the world's first free band."
It's an exaggeration for sure – the band's only been around for about a year and half – but their dedication to producing free music has been with them since its inception – even before Radiohead and In Rainbows.
"You know, it's kind of funny," says Kiley. "I had had this idea for years, with my previous band [Cordalene], but then just as we were getting ready to do it, we had a label that was interested…and I had to wait until that band broke up and I formed this band."
"I think what Radiohead did was great," he continues. "Unfortunately, unlike Radiohead, we don't have the luxury of being incredibly famous." He guffaws. "But it's helping to turn the existing model on its head, and change the way people think about music."
Changing the way people think about music seems to be The Murual and the Mints m.o. Consider their shows for example – large-scale, multi-media extravaganzas that include (on any given night) music, photography, video, dance, spoken word poetry, and of course, kegs of beer – at their South Philly home base, the Parlor.
"We like to invite as many different artists in as possible, and in really involve the community," he says. "When you take money out of the equation, you really open yourself up to volunteers and people who are truly dedicated to the music."
Of course, their shows were not always such grand productions – rather, the band started as solo project for Kiley, and expanded when he needed other people to help play different parts at shows.
"At first, I was just looking for a singer," he admits. "And I found Eliza [Jones, of Buried Beds], and it turned out she was an amazing piano player as well. And then Jack [McBrearty] plays electric guitar, which…well, there was no electric guitar at all on my first E.P. But he's such a versatile player, he can do anything."
The band's newest release, Private Pockets (available for download at www.themuralandthemint.com) is the first album recorded by the band as a whole, and Kiley describes it as more "beat oriented" than the original E.P.
"We wanted something more immediate, more physical," he explains.
The band will celebrate their album release with a party of epic proportions this Friday, November 21 at Johnny Brenda's, and concert-goers can expect a full show experience.
Gildon Works, one of our favorite bands, will be opening," says Kiley. "And there will be dancers for at least five songs, and video for the entire show. And a special performance from Pig Iron Theatre Company, doing a 'greatest hits' routine. I'm super excited. Basically, we hope audiences will get to see something unlike anything they've ever seen. That will mean we have succeeded."
PRESS FOR CATERPILLAR-COCOON-BUTTERFLY:
Listen to clip from WHYY:
From Philadelphia Weekly 1/23
Mural and the Mint
Sat., Jan. 26, 10pm. $10. With Nichole Canuso, Meg Foley, Makoto Hirano, Eliza Jones, Jack McBrearty, Joshua Ramey + Byron Karabatsos. Parlor, 1170 S. Broad St. 215.670.9901. www.themuralandthemint.com Former Cordalene frontman Michael Kiley has taken a page from Radiohead's book for his new project the Mural and the Mint. He's giving away songs for free, and in keeping with his art vs. money band name, documenting the attempt to reconcile the two on his blog. Benefit shows like this one are part of the experiment, and Kiley has roped in friends from all fields—music, dance, poetry, theater, film, sewing, photography—to share their talents. So what's Kiley's music like? Unlike Cordalene's hooky rock, it dwells on ticklish piano and Kiley's pretty, near-acrobatic singing, with sharp lyrics that flit from love and fatherhood to "gritty city streets." (Doug Wallen)
From Girl About Town(http://www.phillygirlabouttown.com):
The Mural and the Mint – Music to Your Ears

Photo by Michael Alan Goldberg
The Mural and the Mint's Michael Kiley is always thinking forward about music. How people use it, what they are looking for in the musicians and people that make it possible, where it's at and where it's heading to in the industry and in his own life, Instead of waiting for the next innovative inspiration, Michael Kiley is becoming that inspiration.
During the next few weeks and well into 2008, Kiley will surely be remembered by his fellow musicians, artists, and friends as being thoughtful, and decidedly busy, working on his upcoming Junto presentation hosted by Geoff Dimassi at P'unk Avenue (1168 E. Passyunk Ave.) to be held on January 17, 2008, while also organizing an artist-spectacular evening over at The Parlor (1170 S. Broad St.) slated to take place at the end of the month, on January 26, 2008.
A Junto, is a panel discussion covering "… any point of Morals, Politics, or Web Applications, to be discussed by the company;" where each member must, "produce and read a presentation of his own creation, on any subject of technology he please." The perfect forum for what has undoubtedly become one of Kiley's greatest projects and passions to date – striving to challenge the price tag that is put on musicians and the listeners of music made 'within the standards and boundaries of the industry' as it is, today.
Girl About Town asked Michael Kiley which topics were to be covered, and he was able to give us a rough run-down of the evening's panel discussion: "Free music, where things are heading, how technology is changing people's thinking about art and the artist," and also "the relationship between art and money". Kiley may also bring in a guest speaker as well – unconfirmed as of yet, but even so – the topics covered will be relevant to anyone involved and interested in the arts or music community and where it is headed.
As for Kiley's very unique evening event planned for The Parlor on January 26th? Well, I'd be lying if I said that it didn't look a little bit like Philadelphia's own version of a Rock n' Roll Circus, and will be comprised of musicians as well as artists (of the non-musical variety) –artists ranging in varied talents and trainings, not limited to – but including; theater, dance, art, and film.
"We don't quite know what to expect yet, but with the talent involved, it's sure to be interesting and fun, and take a bit of the winter chill off." (Michael Kiley)
The people that have been enlisted in Kiley's plan for this exciting evening of artistry include: Dito Van Reigersberg (aka Martha Graham Cracker, and of Pig Iron Theare Company), Joshua Marcus (solo artist, Fan of Friends, Like Moving Insects), Nichole Canuso (Nichole Canuso Dance Company, Headlong Dance Theatre), Meg Foley (Independent Modern Dancer), Makoto Hirano (Independent Modern Dancer, Spoken Word Poet), Eliza Jones (of Buried Beds), Jack McBrearty (of Falkonr), Joshua Ramey (of The Extravagant Bastard), Byron Karabatsos (Independent Film Maker), Katie Henry (Made By Hank) and Manuel Dominguez Jr. will also premiere sewn drawings and photographs respectively.
Both musicians Eliza Jones and Jack McBrearty (of talented local groups Buried Beds and Falkonr respectively) have been working with Michael and accompanied him at his most recent Girl About Town appearance at The Khyber for the first time this past weekend during a fantastic performance that filled the room, "I don't know what the next record will be. Last Sunday was the first show with both Jack and Eliza. I can tell already that they will be a big part of the next recording. We are also looking for a drummer, to open things up a bit. Things are so open right now that I really don't know. I'm just going to keep working and let the focus come with time. There are a lot of songs already written though, definitely enough for a full length."
When asked about how all of the musicians became involved in the upcoming event at The Parlor, Kiley was enthusiastic in response, and even offered a little insight into his ideas and the future of The Mural and the Mint project, "All of the collaborators got involved because I have seen their work and care about it, and asked them to get involved. This show will be the first step in what I want TM&TM to really be… more like a collective of artists than a band. I think of TM&TM more as a not for profit arts company than anything else. So we are having a fund raiser, to further the project, not just for recordings."
The Mural and the Mint is also currently seeking volunteers for their upcoming evening at The Parlor – if you think you are able to help out, and have a few hours to spare, it's bound to be an amazing night to remember!
Please email michael[at]themuralandthemint.com for further information regarding volunteering for the night and/or to find out more about what it involves.
Download This:
The Mural and the Mint – Caterpillar Cocoon-Butterfly EP
And if you download, please consider a donation for all of their hard work in putting it out, by clicking here: http://www.themuralandthemint.com/?page_id=10

SAVE THESE DATES:
Jan 17/08 – Michael Kiley Junto Panel Discussion @ P'unk Ave // Philadelphia PA (Free!)
Jan 26/08 – The Mural and the Mint @ The Parlor // Philadelphia PA ($10 donation, Doors @ 10pm)
The Mural and the Mint – band site / myspace
Posted by Carly Marcoux in Music Highlights | Girl About Town review:
November 14, 2007
The Mural and The Mint – Caterpillar-Cocoon-Butterfly (self-released)
"There's something about this world that's so dark it's beautiful
it's a beauty that's so hard to see when you're gone" (The Part I Hate Most)
The Mural and The Mint's Michael Kiley cares a lot about the music that he makes, and the city that he lives in. Philadelphia is home to this very talented songwriter, and if you've dug far enough into the history of his new project's name, you'll have found that "The Mural" and "The Mint" parts, are both derived from his relationship with the city that he lives in, and most notably its historic and creative surroundings. "The name for the project came from the city of Philadelphia, home to more murals than any other city in the country, and to the Franklin Mint." Kiley has lived here for a little under 10 years, but seems to take great pride in the love he has for the place that he calls home.
You may also be familiar with Kiley's other band Cordalene, which he joined as vocalist and guitarist in 2002. Although The Mural and The Mint's sound is filled with Kiley's vocals and guitar, the final result on his latest E.P. Caterpillar-Cocoon-Butterfly is much more of an exultant and personal listening experience. The new songs bring to mind the vocal styling and compositions of Colin Meloy and The Decemberists, recounting everything from reactionary stories, to tales of woe, love and life. If we were taking it literally, experiences and the stages of living. The melodies range from ragged and pointed stops to a darkened delivery and deep instrumental changes.
All of the songs here practically illuminate with their own unique, beautiful, and quiet strength. "My mind stutters with wonder…" (Oh, So Sweetly) Kiley not only has a way with words, but a tale to tell stemming from the city that he lives in, and the place he does call home. The issue of gun violence pervades the lyrics of the last two songs with the poignantly written "Tyree", and "Something to React Against". Everyone has their own story to tell, and Michael Kiley's lyrics on these last two songs don't mince any words in creating very real imagery.
Engineered earlier this year by Miner Street Studios' Amy Morrissey and mixed by Brian McTear (Matt Pond PA, BC Camplight, Danielson, The A-sides, Spinto Band, etc.) here in Philadelphia, the actual E.P. is a free release on The Mural and The Mint's website where it notes, "All of our music is free, as all music should be". The band is also taking donations for the work that they've created. Every artist has to start somewhere, and hopefully this is only the beginning stage for The Mural and The Mint; from caterpillar, to cocoon, to butterfly.
Track Listing:
Cartwheels
The Part I Hate Most
Nothing Left to Holler
Oh, So Sweetly
Tyree
Something to React Against
MySpace: http://www.myspace.com/muralandthemint
Website: http://www.themuralandthemint.com
Ugh News Interview:
Wednesday, November 7, 2007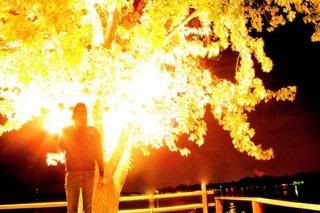 Sometimes you stumble upon something that restores your faith in an angry city. Restores your faith in strangers and ideals. Not in a cheesy way; just a nice refreshing way. The Mural and the Mint did that for me. Michael Kiley is doing something different with his free music project. As he put it, "Free music isn't an original idea", however how many people do you know who are making and giving away full albums without the goal of eventually turning a personal profit?

The Interview
Louisa: Explain how this whole project came about.
Michael: I started thinking about releasing my music for free a few years ago. Only recently have I had the courage to actually do it. To be honest, I am not really sure if its a good idea. But I do think that in the end, more people will hear my music than they would if I had a label press copies and release it. I just try and not spend money on this project. If I don't spend money, I can't loose money, which is what 99% of musicians end up doing (and what I have done in the past). The times of record sales supporting an artist are long gone. Most of the people that make money off of record sales are non artists. Songs have become marketing materials, so that's what I am letting them be.
L: Your project from title down is distinctly Philly. Are you a native?

M: No, I grew up in North Jersey, and spent some time in New Mexico before moving here. But I love it here. I never wrote a song until I moved to Philadelphia. It has definitely inspired every ounce of this project in one way or another.
L: The idea of making music and not getting financially compensated is so completely backwards from today's mainstream music industry. How have you been received by listeners and other musicians?
M: Well, that's what I'm reacting against. It shouldn't be backwards. Everything about the music business is about making as much money as possible, which is what's really backwards. Neil Young will throw images of Clear Channel planes dropping bombs during a show at a Clear Channel venue. That happens because Neil and the people around him are more interested in making money than producing themselves. And if there is anyone who could set up in a parking lot in the middle of nowhere and play a sold out show it's Neil Young. Its just been going on for so long that people like him who actually care about music and actually hate Clear Channel or Live Nation or some other conglomerate can't separate the two any more, or just don't choose to. It's not anti-establishment to trash a company and then cash their checks.
That's not to say that I don't think musicians should be financially compensated for what they do. Of course I do. I just think that the existing model for paying musicians is so fucked up that I no longer want any part of it. That's why I am asking for donations. People who care about what I do support me, through giving money or donating time and ideas. Like Punk Ave, the company that host my website for free. They believe in what I am doing. I have made more money through donations than I ever have selling records. And that money, little though it may be, goes directly back to the art.
That has been the most negative thing that I have heard though, that giving music away cheapens the artist. But that's not how I see it. Giving 90% of your record sales to managers, label execs and promoters is cheapening yourself. Now, that's not to say that those people shouldn't get paid for what they do, but it is to say that they have become the focus. The artist is the one who takes the risk now, not the publicist or whoever. That is why all art should be free. It should be funded, and free. I'm just trying to find a different way of getting paid, and of making sure the money goes back into the work, not back into the add budget. And look, there are exceptions to every rule. There are good labels and good mangers, good promoters, and good people who work for Live Nation. I'm friends with some of them. But on a whole, it is mostly rotten.
L: You have an upcoming show at L'etage. This space seems perfect for your style of music. Are you planning on playing more shows this winter?
M: Yeah, I love L'etage, when the crowd is right. It's great as a small music venue. I'm going to play a show in Delaware on December 15th, for Tric Town at Mojo 13. After that I think I am going to focus on setting up my own show in an alternate venue. I want to collaborate with dancers and film makers on an evening. Less like a rock show, where people will filter in throughout the night, and more like a performance that starts at a certain time. I try to work with different people every time I perform, creating new versions of the songs for each show. We'll see if I can keep it up.
L: I love the embroidered image for the cover of Caterpillar-Cocoon-Butterfly. Who made it?

M: Her name is Katie Henry. She has the moniker Made By Hank for her work, which you can find on her Myspace. She makes embroidered drawings of people with animal heads and animals with animal heads…I'm still waiting for the animals with people heads, but she doesn't like sewing faces. She also makes great bags. She's gonna be famous.
L: Have you been involved with any other projects (musical or other) in Philadelphia?
M: Right now I do sound design and compose music for theatre and dance. I'm working on a piece with my wife, Nichole Canuso, for the '08 Live Arts called Wandering Alice. It's a site specific work where the line between audience and performer blurs.
L: How do you feel about the music scene in Philly? Any favorite local bands/musicians?
M: It's good. I feel like we could help each other a bit more. I like running into other musicians around town and chatting with them about what they are up to. I feel like most of us are going through similar things…how to legitimize yourself as a musician, how to have a relationship or a marriage or a family and still do what we love. Maybe I should start some sort of support group. That sounds so lame though. No one would come. I love Josh Marcus and Pattern Is Movement among others.
L: Obviously you are proponent of free music. How do you feel about the Limewire type downloading of music not intended to be free?
M: Limewire is stealing, I think it is wrong. I also think it's bullshit that a program like Final Cut Pro should be $1000. That's just people getting fat. But that's not up to me. I don't have the ability to make a program like that, so who am I to say what it's worth. But you can't look at stealing on a case by case basis can you. Is it ok for the start up director to swipe that program because he can't afford it and could be a great film maker? Is it o.k. to take Radiohead's record for free because they don't need the money? No, I took it for free because I make free music myself, and because they let me. I also think it's wrong that a club will take all the money from the bar, AND pay out the sound guy and door guy FROM THE DOOR before they pay the band, but I also don't have the power to open my own club. People can do things however they want to. I'm just disappointed with people's inability to put themselves in check. For a club owner to say, I'm gonna make $100 less dollars tonight and give it to that band that drew five people because they were GOOD, which is why I booked them in the first place. Now they have $100 more to make music with, and I still made money off them and their friends at the bar. When people start thinking that, this town's music scene will really flourish.
L: I'm sure the internet has been critical in getting your music heard. I've noticed lately that bands will list their Myspace page before their real band website on flyers. What do you think of Myspace's involvement in music promotion?
M: Well, My Space is free and having your own web site is not. It also takes no knowledge of html to use it and that's why it is brilliant. It streamlined the web for the masses. It's too limiting for what I want to do though, I can only post 4 songs there for example. It's heyday is over, but it is still invaluable. And it is owned by one of the worst men in the world…I suppose all us peaceniks are hypocrites for using it, just like Neil.
L: Do you think a project like your's would be possible without the advent and popularity of "online communities"?
M: Of course not, the internet is the only place to get my music. There are no copies of it. I think "online communities" are my only hope of being heard. I just hope they find me.
L: Give me a favorite Philly memory/story/experience.
M: I don't know that you could call this a "favorite" but I can't shake it. I was in the police station at 24th and Wolf about a month ago, waiting in the lobby for someone to drive me back to my job (its a long story). There was a mom with her daughter in her lap, she was like 7 or 8. They were both visibly shaken up. Her husband walks in, to which she promptly says "You need to put your fanny pack in the car." And her eyes motion to a sign that reads: NO FIREARMS BEYOND THIS POINT. IF YOU ARE ARMED, NOTIFY DECK OFFICER." He ignores her and sits down. I can't help but think how ridiculous it is to carry a gun in a fanny pack. Fucking hilarious. He asks what happened. Apparently some kids shot a gun off while she was driving her car with her daughter in the back seat. The bullet went through the rear window, and the girl got cut from some of the glass, but the bullet didn't hit anyone. The dad's response was, "We'll that's why I've been carrying since I was 21. This weekend we'll go get you your permit so you can start packing too." The wife just nodded in agreement. It took all my restraint to not ask the guy if his gun could stop bullets. It's so strange to me that people in this city and in this country consistently try and solve problems by becoming them. That's what the song Tyree is about…a boy was shot dead right in front of my house, and it turned into people yelling at each other when they should be coming together.
L: What are some of your favorite things going on right now in the city?
M: Baby disco. Benna's cafe. Pig Iron Theatre and Headlong Dance Theatre. The city wide free wireless. Just kidding.
To donate or learn more visit www.themuralandthemint.com or their Myspace. And come see The Mural and The Mint live at L'etage above Beau Monde on Bainbridge between Sixth and Seventh on November 29th at eight pm.


Written by Louisa Engle. Photo provided by artist.